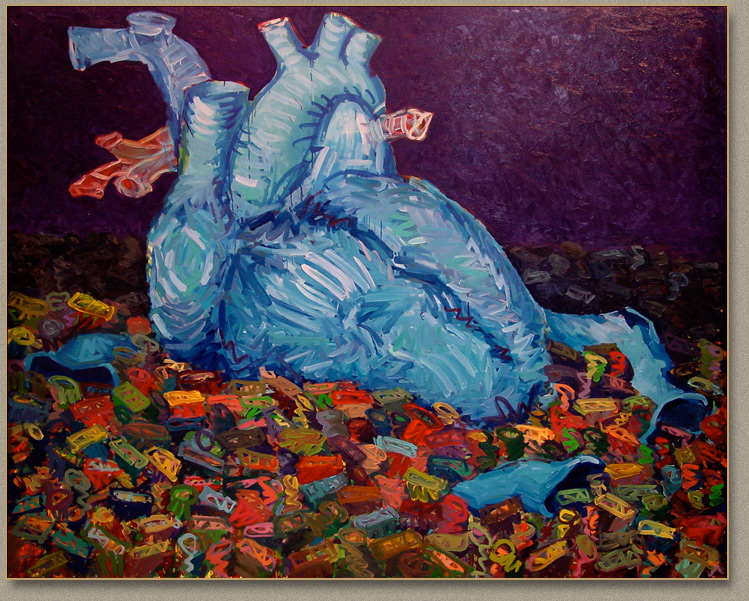 FEAR
When Frank Klein ask me to submit a painting for this show, with this theme, I accepted. I told him I had a painting I was afraid to start, afraid to finish, and afraid to show. I was not being cute. I had lost a girl friend to cancer years back and when the time was right to come to terms with it through art, I failed. Until the dream.
Morse Code Translation of the Painting:
After Mcgurrin died I found grieving to be unbearable. I hated it. It burdened my soul and sleep. One morning I dreamed Mcgurrin was lying on a couch in what appeared to be the hull of a dark empty freighter. I was on my knees in front of her with two enormous hounds between us. They were monsters dogs snaring and howling and lunging at me, circling the couch blocking Mcgurrin. They were hell terrible, drooling blood and spit and pulse puking on the floor. My heart was breaking and I was crying tears in to their slop. Mcgurrin just sat with a peaceful unconcerned look on her face. I bent over on all fours like the dogs and began to mop up their poison with my long hair drenching myself in it and wailing. I woke up shaking, wondering how a dream, for that matter the universe, could be so cruel. I thought about the dream for days until the fear it gripped in me began to translate. Mcgurrin was on her journey and she wasn't worried or hurting anymore. These hellhounds were my anger and pain, something I was indulging in, soaking up like an impotent Samson. A burden she would no longer tolerate in me, a dream she offered up in extreme imagery to force the healing to begin.
I don't consider this a successful painting, in the sense that it answers questions you start out with on a blank canvas. It is a raw moment in time stretched out passed it's shelf life, whispering of a time gone ary, cherry picking from the waking.